AlBaik, a name that needs no introduction, and a venture that went through daunting growth stages until it became an international one. However, what is impressing about this restaurant chain in Saudi Arabia is that it actually belongs to Palestinian brothers, Rami and Ehssan Abu Ghazaleh.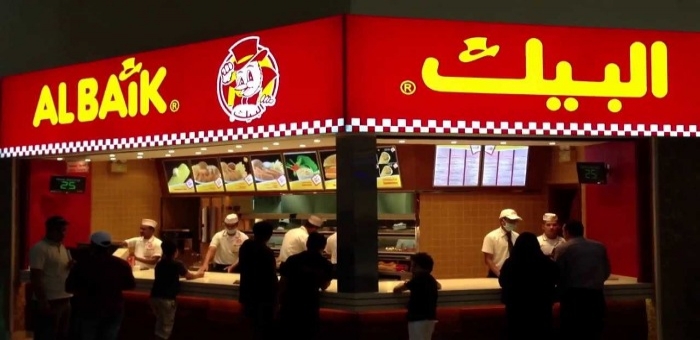 Ramallah- Palestine Economy Portal | Hundreds of thousands of people annually have fried chicken meals from one of AlBaik restaurant branches in Saudi Arabia. However, AlBaik restaurant chain that belongs to the Palestinian brothers Rami and Ehssan Abu Ghazaleh had to overcome several obstacles, and take some very daring decisions, especially when the family took the decision to liquidate all family business to help achieve the doubted success of the restaurant.
The first restaurant was established in Jeddah in 1974, but AlBaik now is one of the biggest restaurants in Saudi Arabia, as it has over 44 branches there.
The start
In a seminar about the success of AlBaik restaurants, Rami Abu Ghazaleh said, "My father made a contract with a broasted chicken company, and became an agent for it in Saudi Arabia. However, after his death we received a note from the company stating the termination of the contract due to the death of the 'second party'."
He added; "After Ehssan graduated from the university, majoring in Petroleum and Minerals, he took a daring decision of liquidating all business and shifting all work into restaurants business, in order to continue the journey of our father." In parallel, the family received a bank letter informing them of two choices: either a lien on their properties would be imposed, or they would have to pay their debts, which were estimated in millions. The family then signed promissory notes to pay its debts, in order to be able to follow their dream; said Abu Ghazaleh.
Determination… and the Reason behind the Name
To achieve their dream, Ehssan moved to France to study Management Technology. There, the restaurant started to gain independency through moving away from agency business. Rami added, "Ehssan started buying secret recipes from there, while we prepared these recipes in a secret place," pointing out that this phase continued for four years until they managed to create their own secret recipe.
He continued, "Because there are several broasted chicken restaurants in Saudi Arabia, and because they have a bad reputation there; we decided to distinguish ourselves from competitor restaurants in the service, organization of the work, and good quality. We also decided to change the name from 'Broast' into 'AlBaik', which is an Ottoman term that means AlBasha (The Pascha)."
Tributes to AlBaik
According to a report aired on CNN channel, AlBaik restaurant ranked 6th place in the top eight restaurants offering fast food meals outside the United States, pointing out that what AlBaik offers is worth tasting. The long lines of people in front of AlBaik branches show how much they love the meals offered.